Illig Thermoforming Machines
IML-T Lines
This automatic pressure forming machine is based on the successful RDM 70K series with IML interlinkage. Cup decoration by means of ILLIG IML system (in-mold labeling system) by inserting pre-printed labels from magazines directly into the forming tool. All label variants are feasible, from 2-sided label through to 5-sided full decoration. Much more attractive decoration can be produced with this system. There are almost no limits with respect to container shapes.

When labels have been placed into the forming tool the cup is formed into the cavity – i.e. forming and decoration are performed in one step.

The decoration impresses with excellent quality and high brilliance and can be produced in both ways, by offset printing or gravure printing. Not only the outside areas can be decorated but also the bottom.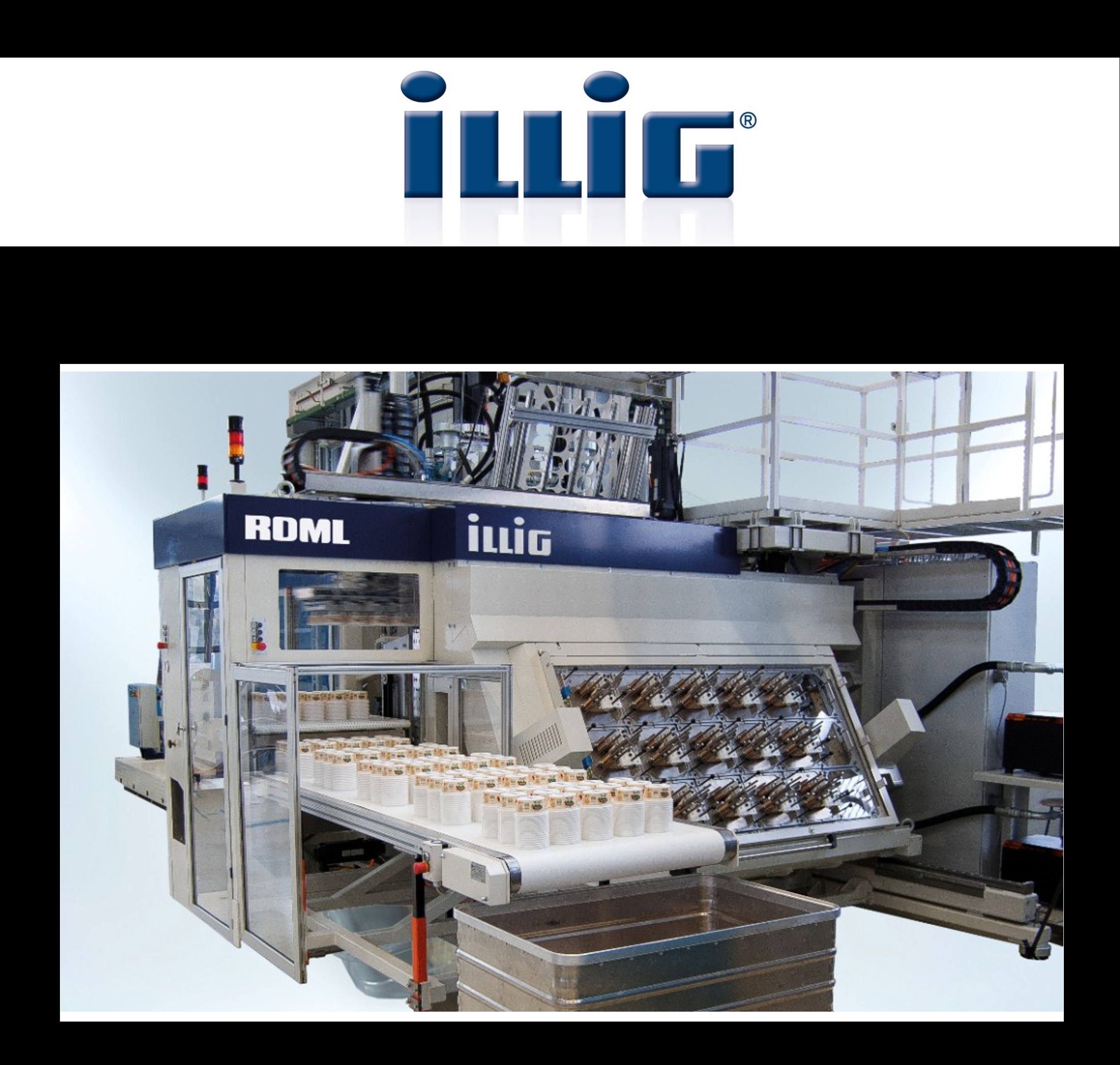 The Patented T-IML System
The ultimate decorator......
RDML Series
Automatic Roll-Fed Forming/Punching Machine
Pressure Forming Machine
Round parts
Part | ø | 18-up | 6x3
Part | ø | 18-up | 6x3

Non-round parts
Butter tub | 15-up (5x3) | 123 x 92 | mm
Euro-tub | 12-up (6x2) | 142 x 92 | mm
dairy cup | 10-up (5x2) | 137 x 100 | mm
Ice cream cup 1 Liter | 5-up (5x1) | 180 x 120 | mm
Ice cream cup 1 Liter | 5-up (4x1) | 180 x 140 | mm

The RDML 70b is exclusively interlinked with a RDM 70Kc. A corresponding interlinkage kit is included in the basic delivery scope for this line configuration.
Individual Labeling with IML-T
A specifically designed IML unit removes the printed blanks (labels) from a magazine and places them in the mold cavities in the forming station of the thermoformer. During the subsequent forming process the label bonds true to contour and permanently with the part wall. Principally, the pack can be designed without limitations, from cup-shaped through to tray-shaped. The large decoration area is a special benefit provided by IML-T technology. Moreover, the label can even add to increased pack rigidity, subject to geometry and quality. Consequently, the thickness of the material used can be reduced (saving of material costs) and still the required top load of the pack is maintained.

A further benefit provided by the IML-T technology developed by ILLIG is the fact that every mold cavity can be equipped with an individually printed label, and a label change can be performed fast and with only low effort. All standard materials, such as PS and PP labels through to paper labels, can be processed. Cleanly separable packs can be realized.
Machines of the RDM-K series are designed specifically for economical production of cups of different sizes and shapes out of thermoplastic material. Frequently they are employed as in-line systems with upstream extruder, e.g. for large-volume production of drinking cups in millions of numbers. The machines are equipped with the IC concept (ILLIG Intelligent Control Concept), so the high capacity of these servo-driven thermoformers can be utilized easily, reliably and fast to the full extent.
ILLIG IML-T technology is also integrated in form, fill and seal lines (FFS lines) especially in the dairy industry. The great variability provided by the system allows synchronous filling and packing of product families. Product changes can be performed fast and with only low effort. Thanks to multi-lane equipment of the FSL 48, product families can be filled, i.e. different flavors with corresponding labels.
Protective layer
The decoration impresses with its excellent quality and high shine, which is achieved in the offset or gravure printing
The container base can also be decorated. It is important the EAN code at the base is prominent
The label improves the side wall stability so that the output material thickness can be reduced
Efficient realisation of particularly demanding decorations, e.g. real-like photo decorations
IML makes possible the use of smaller font and thus more information on less packaging space
Simple change of the container décor during running production
Unique possibilities for cup design through optical singling-out of available relief
Shorter processing time compared to time-consuming post-printing
Cost benefit as opposed to other manufacturing processes as there is considerably higher output
Content from Youtube can't be displayed due to your current cookie settings. To show this content, please click "Consent & Show" to confirm that necessary data will be transferred to Youtube to enable this service. Further information can be found in our Privacy Policy. Changed your mind? You can revoke your consent at any time via your cookie settings.
Consent & Show