Illig Thermoforming Machines
Skin & Blister
Packaging Lines
Skin packaging is the ideal solution for manufacturing cost-effective packs. No follow-up investments in tools or conversion times are required. Excellent transport protection is provided due to excellent product fixing on the card. Count control of the content can be performed without opening the pack.
The basis of the pack is a card printed on both sides.

Top and bottom side of the card can be decorated with single or multi-color printing. Transparency of the skin material in combination with a highly transparent sealing layer enhances the print of the card thus providing in a high-quality, sales-promoting way of presentation.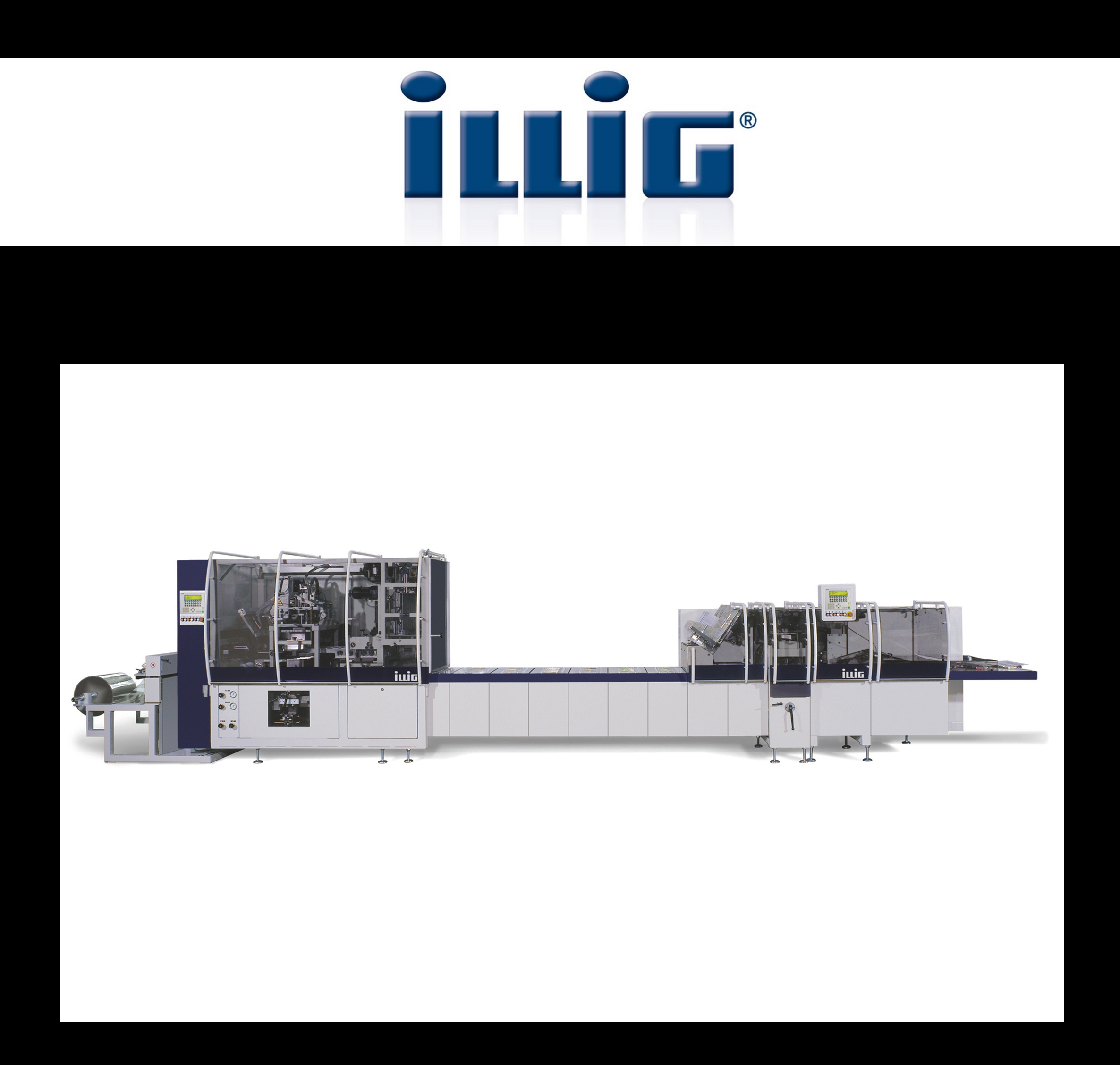 Customized Tailor-made Solutions
KFG 37
Forming area | | 250 x 350 | mm
Material width | max. | 270 | mm
Height of formed part | max. | 90 | mm
Material thickness | max. | 3 | mm
Connected load | | 2.75 | kW
Machine dimensions
Total width | | 1300 | mm
Total depth | | 1140 | mm
Total height | | 1400 | mm
Total height table device | | 700 | mm
Weight | ca. | 140 | kg
Weight table device | ca. | 90 | kg
SB 74e
Forming area | | 505 x 775 | mm
Dimensions of cardboard blank | | 500 x 770 | mm
Material width | | 540 | mm
Depth of draw positive | | 150 | mm
Depth of draw
negative | | 150 | mm
Height of packing | | 150 | mm
Material roll Ø | max. | 400 | mm
Material roll core Ø | | 70 | mm
Heater capacity | | 8.9 | kW
Vacuum pump | | 40 | m³/h
Operating pressure | min. | 6 | bar
Thermoforming unit
Forming area | max. | 500 x 300 | mm
Forming area | min. | 100 x 35 | mm
Depth of draw positive | max. | 80 | mm
Material width | max. | 500 | mm
Material roll diameter | max. | 900 | mm
Width of cut, single blister, multi - format, layout | min. | 47 | mm
Feed length | max. | 300 | mm
Feed length | min. | 35 | mm
Mold closing force | max. | 45 | kN
Total connected load (basic equipment) | | 10,5 | kW
Working air (free air per cycle) | | 8,0 | l
Length of forming unit | | 3500 | mm
Width | | 1196 | mm
Height | | 2050 | mm
Total weight thermoforming unit | approx. | 1800 | kg

Sealing unit | | |
Sealing area | max. | 500 x 300 | mm
Blister depth when sealed from above | max. | 80 | mm
Card size (card with EURO hole, 1-up format layout) | | 500 x 340 | mm
Card size (8-up format layout) | | 58 x 340 | mm
Card width | min. | 40 | mm
Sealing force | max. | 45 | kN
Number of sealing pallets, basic machine | | 20 |
Total connected load (basic equipment) | | 10,1 | kW
Length of sealing unit, 20 pallets | | 5560 | mm
Width | | 1230 | mm
Height | | 1690 | mm
Total weight, sealing unit with 20 pallets | approx. | 2000 | kg
Cycle speed | | 20 | /min
BSA 37Forming station

Forming area | max. | 309 - 358 | mm
Index | max. | 310 | mm
Index | min. | 150 | mm
Depth of draw | max. | 80 | mm
Material width | max. | 370 | mm
Material width | min. | 180 | mm
Material thickness | max. | 0.8 | mm
Material thickness | min. | 0.2 | mm
Forming procedure positive pressure air forming

Sealing station
Sealing force | 70 | kN

Punching station
Punching force 4 pillar station |
| 200 | kN

Total machine
Number of cycles/min. | max. | 22| /min.
Operating pressure | | 6 | bar
Material roll Ø material for container | | 1000 | mm
Material roll Ø material for lid | | 300 | mm
Material level above ground | | 1065 | mm
Total width of machine | | 1389 | mm
Total length incl. material roll stand Standard | | 11070 | mm
Skin & Blister Series Video
Content from Youtube can't be displayed due to your current cookie settings. To show this content, please click "Consent & Show" to confirm that necessary data will be transferred to Youtube to enable this service. Further information can be found in our Privacy Policy. Changed your mind? You can revoke your consent at any time via your cookie settings.
Consent & Show