Gruppo Cerutti
Rotogravure Printing Press
R98X
The "trolley-type" gravure press where speed of job change-over and flexibility count.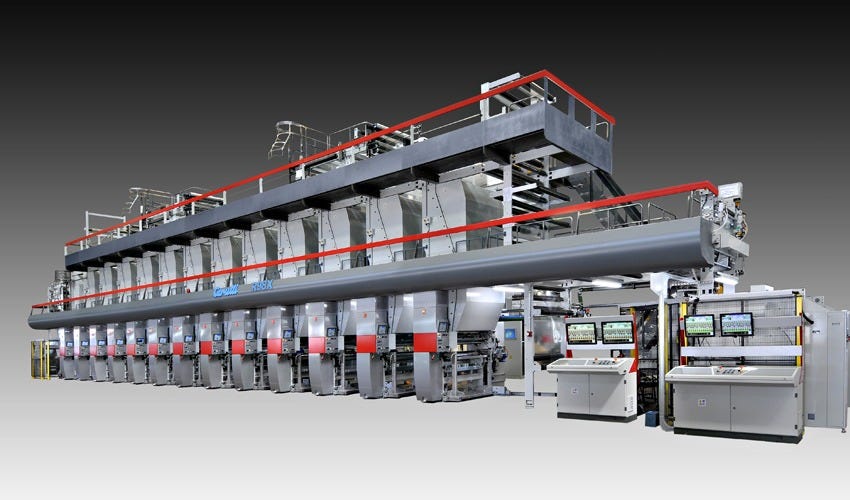 Web width: Standard 1300 mm; Optional: 800 mm, 900 mm, 1000 mm, 1100 mm, 1200 mm, 1400 mm, 1500 mm
Printing cylinder standard repeat range: 450 – 920 mm; Optional: 400 – 920 mm, 400 - 1000 mm, 450 -1000 mm
Suitable for printing: Film, annealed unsupported aluminum foil, paper laminates and carton-board (max web width in this last case 820 mm)
Drying system: Each printing unit can be equipped with drying hoods of different length, with thermal oil heating
Max design speed: 500 m/min
Available models: Also available in the air chuck version
Complete wash up of printing cylinder and inking system (ink tank off the trolley) is possible as an option.

New generation drying system with:
Improved accessibility to the drying hoods
Improved efficiency of floor sweeping system
Energy saving.

The gravure trolley carries:
The printing cylinder (bearing fitted to the printing unit side frames)
The complete inking system, including ink pan(s), ink splash guards, ink tank with pump
The trolley replacement is carried out by one single operator thanks to servo mechanism
Replacement possibility of
printing cylinder only
inking system only
printing cylinder and inking system at the same time