Polytype Converting
Treating Systems
The Humidifier FLUIDEX® ensures that even the driest papers are moistened effectively. The correct moisture content of paper ensures far less curl, improved finished reel quality and excellent flatness.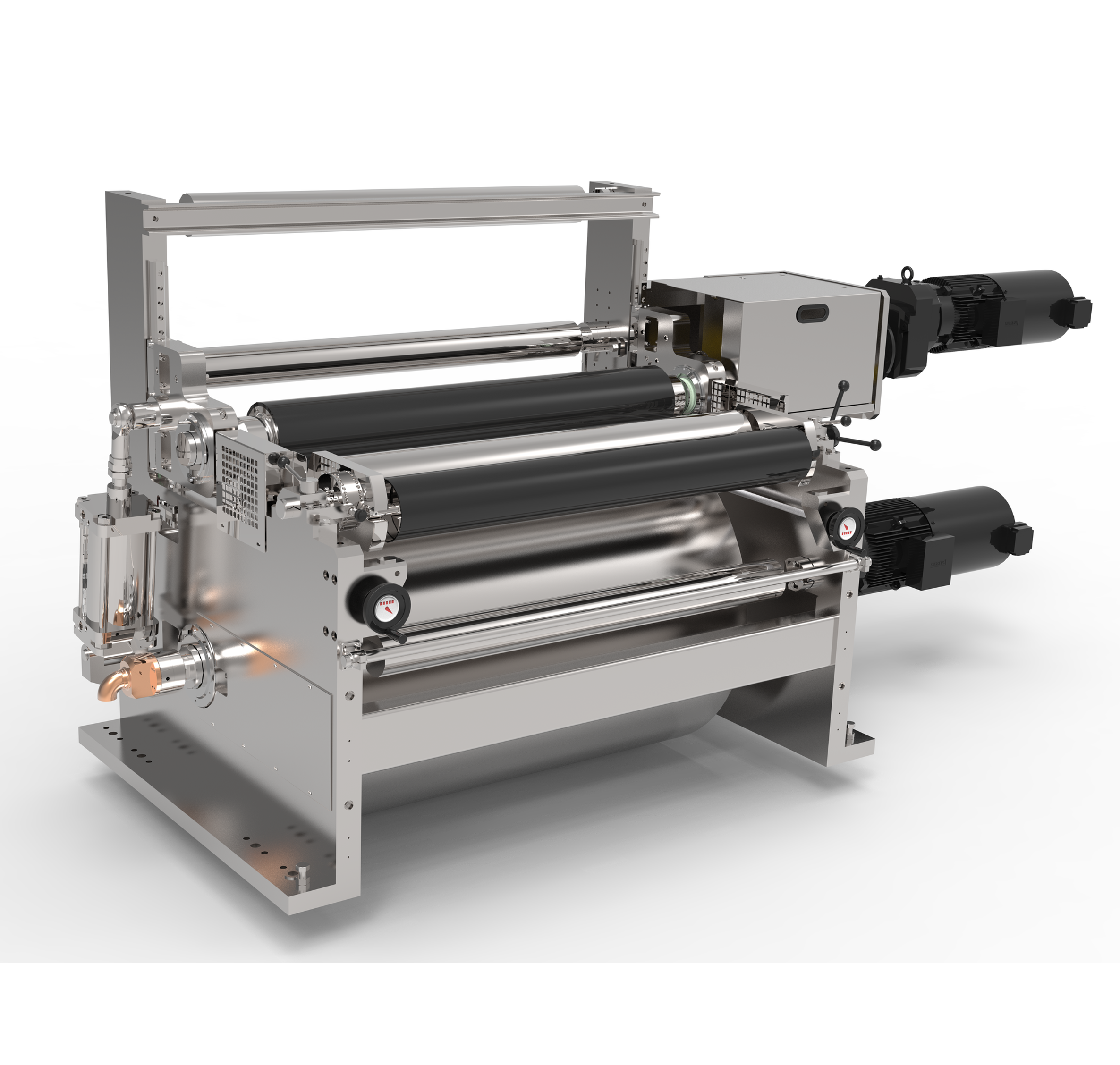 Polytype Converting - Industry Pioneer & Leader
More than 60 years of know-how
Steam Humidifier FLUIDEX®
Paper flatness and uniform moisture levels are important quality criteria for further processing. The steam supply system in the FLUIDEX® guarantees absolutely "dry" operation and uniform moisturizing over the entire working width. This results in flat paper everywhere.


The FLUIDEX® system is entirely made of stainless steel and is free of any deformation by design. It is available for single and double-sided re-moisturization. Vacuum systems at the entrance of the FLUIDEX® guarantee the absence of steam at the web exit and ensure that machine parts are not affected by any steam condensate.
The VacRoll table separates tensions between two production steps without touching the outer coated surface. The suction effect is created by a jet stream, using our patented Vacutex ® technology.

In case of a web break, the coated web will remain on top of the Vacutex ® rollers without contaminating the suction area.
Our laminators secure the optimum bonding of various base materials for high-quality products. Laminating can be either wet or dry for any web based material. For dry laminating Polytype Converting offers a combined laminating- cooling station.

To enable the best possible lamination process, the laminator is equipped with two inlet rollers. These are 360° adjustable, in order to set the best workable infeed angle.
Vacuum rollers separate tensions between two production steps without touching the outer coated surface. For paper webs, the roller surface is grooved in a cross-spiral shape and its surface is release coated.


For films, a mesh screen grants that no marks are left on the substrate, at selected places such as the dryer outlet. Mesh screens can be quickly and easily changed. Vacuum rollers are available with a width adjustment feature, either manual or automatic.
The embossing station produces precise surface structures for technical or decorative applications. In combination with different printing patterns attractive register embossing can be produced on request.
Flappy edges and uneven web profile are common challenges in the converting process of filmic materials, such as PVC. With the Polytype Converting relaxation unit an optimum relaxation can be reached even for the most difficult web materials
Treating System - Reference Images