Olbrich Gmbh
Complete Production Lines for
Floor Covering
With OLBRICH you can rely on state-of-the-art technology and decades of experience from hundreds of reference plants in the floor covering industry worldwide. Therefore, you can always rely on the high reliability, efficiency and flexibility of your machines.

Over the past 70 years, OLBRICH has realized many innovations for the floor covering industry: from the world's first five-metre wide coating lines for heterogeneous PVC floor coverings to the introduction of consistent inline production and in-register embossing (EIR - embossing in register) for luxury vinyl tiles (LVT) and cushioned vinyls (CV).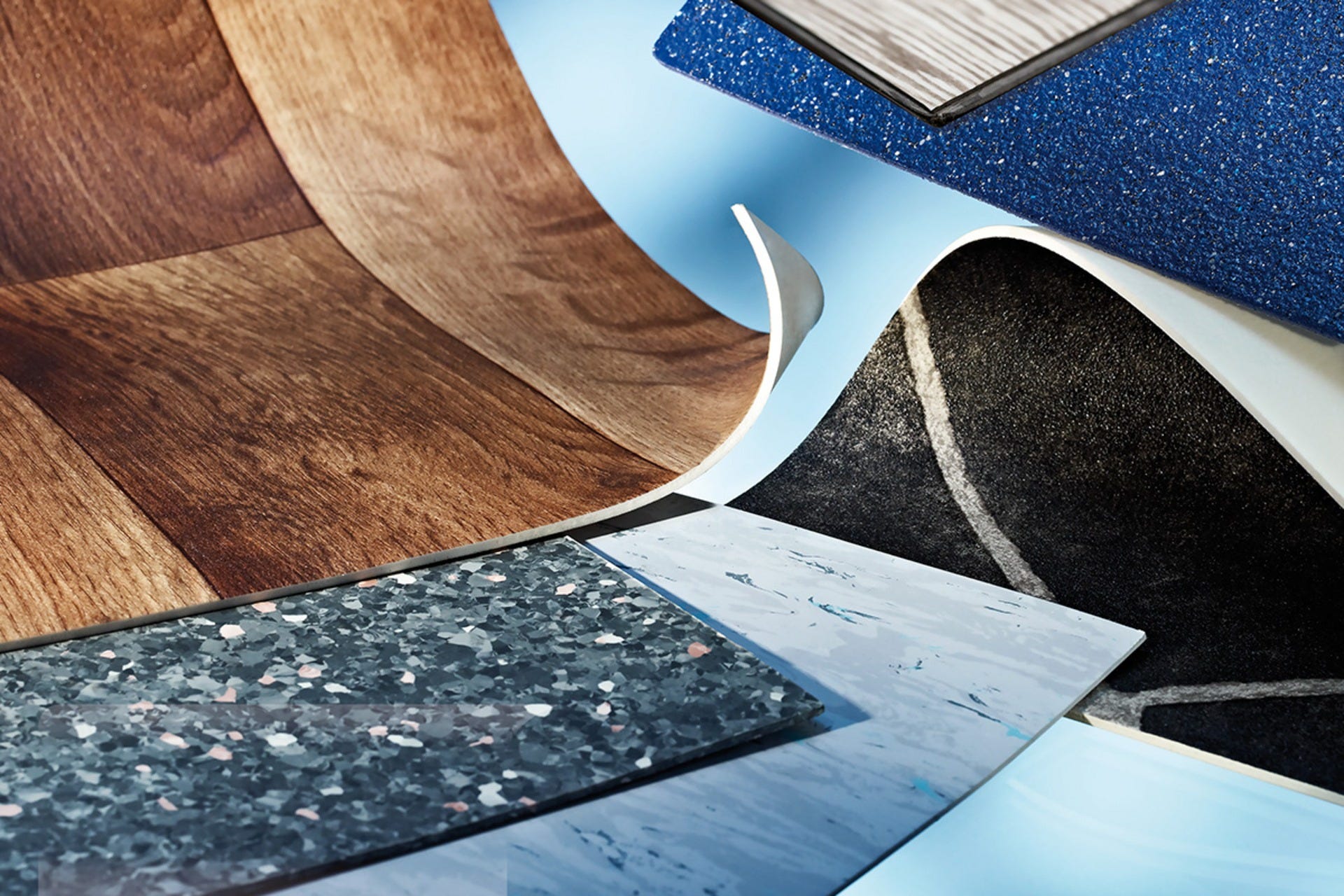 Olbrich is the World Leader in Production Lines for the Floor Covering Industry
Complete Solution for Floor Covering
With coating lines from OLBRICH, you benefit from consistent process optimizations, ease of maintenance and optimum process windows with regard to your coating media. The variety of different coating processes allows you to easily create innovative and flexible floor coverings that set you apart from the competition: In addition to common CV floor coverings, also for state-of-the-art LVT, PVC-free products or carpet tiles with special backings.

As an experienced supplier of complete coating and drying systems, OLBRICH can also offer you tailor made systems. This ensures maximum efficiency for your production.

EXEMPLARY COATING TECHNOLOGIES:
Knife over roll coaters, KOR
Combined knife over roll coaters with take-off roller
Roll Coater, RC (two rollers)
Three-Roll-Reverse-Roll-Coater, RRC (three rollers)
Heated rollers and coating knives
Automatic coat weight control via weight measuring systems or recipe management
Our systems for printing or lacquering floor coverings open up a wide range of possibilities for implementing individual designs. Your production will benefit from high speeds and high-quality results - for example when printing heterogeneous floor coverings or lacquering homogeneous floor coverings. Our specialists design the machines according to your requirements for solvent-based or water-based inks or lacquers.

We would be pleased to implement offline systems for high printing speeds or inline systems with up to twelve printing units for non-stop design changes during ongoing production. In addition, our systems also offer register control systems for lower widths without register marks and efficient pre-setting functions for synchronizing your printing units.

Thanks to state-of-the-art controls, our systems are particularly reliable and you always have the web tension in view thanks to clear visualizations.

EXEMPLARY PRINTING AND COATING TECHNOLOGIES:
Doctor chamber systems for minimal ink consumption during ink changes
Turret heads for different working widths
Digital pre-setting of the register control systems
Safe tension control and visualization during the entire printing process
High performance intermediate dryer
Machines for direct/indirect coating application
Forward or Reverse coating
Tandem printing/coating units for quick product changes during production
Achieve perfect drying and foaming results in the production of floor coverings - with top technology from OLBRICH. Our dryers not only impress with the highest accuracy in temperature control and air speed, but also with optimum energy efficiency and optional heat recovery.


Our specialists develop individual concepts for exhaust air treatment for you, so that your new dryers are optimally adapted to your production. In the development phase, we use both computer simulations and trials with dryers in our technical centre for your project. In this way, we can optimize the gelling or foaming process, the controlled removal of plasticizer condensate and ideal insulation without cold bridges.

Further quality features of your OLBRICH system are optimal web guidance with minimal tensile stresses in the dryer: In addition to transport belts and idler rollers, original OLBRICH roller conveyor systems are used here for gentle goods transport over the entire length of the dryer.


Of course, we also advise you on holistic energy concepts - from the most efficient type of heating to the most modern filter technologies for exhaust air disposal.

EXEMPLARY DRYING TECHNOLOGIES:
Circulating air heating with thermal oil, steam or natural gas
Frequency controlled recirculation fans
Combined or separate upper/lower air supply
Bottom heating plates and separate top air supply
Combined heating plates for top and bottom heat
Goods transport systems with special conveyor belts/idler rollers
Annealing lines
With line concepts from OLBRICH, you can rely on our extensive experience from a wide variety of laminating technologies: from floor coverings to furniture films to artificial leather, OLBRICH has been known for decades for its multi-layer laminating lines. With this unique crossover knowledge, we develop tailor-made concepts for you. For example, we laminate heterogeneous floor coverings or Luxury Vinyl Tiles (LVT) in all common working widths from 1.2 to four metres safely and crease-free. During the development phase, we verify your project and product ideas through production-related tests with laminating lines in our technical centre.


This guarantees you lines with maximum efficiency in multilayer structures, ideal web guidance for sensitive films and precise temperatures for a wide range of film properties. Automatic winders ensure short set-up times and non-stop design changes are possible even while production is running. In addition, you can always rely on reliable web guides and precise control of nip forces, temperatures and web tensions. Highest repeat accuracy is achieved through our integrated recipe management. Optionally, a software (splice control) monitors the ongoing quality of your production.

EXEMPLARY LAMINATING TECHNOLOGIES:
Thermal laminating
Lamination by means of adhesives
Lamination with central cylinder
Pre-conditioning of the films
With the expertise of our specialists, you can optimise the surfaces of your floor coverings in a targeted manner: For this purpose, we develop machines for a wide variety of embossing or smoothing processes for both the face and the reverse side of your products. The web is guided either horizontally or vertically, the operating mode is with pressure or gap control.


With our turret embossing machine with a capacity for up to six embossing rollers and a maximum width of five meters, you can realize fast design changes during running production. In addition, we also implement hot embossing or in-register embossing systems (EIR - embossing in register) with working widths from 500 to 5,000 millimeters for you. With all OLBRICH systems, you can rely on optimized roll change and maximum temperature accuracy. In this way, you achieve excellent results when embossing and smoothing your floor coverings.


EXEMPLARY EMBOSSING/SMOOTHING TECHNOLOGIES:
In-register embossing, EIR (embossing in register)
Hot embossing
Turret embossers
Vertical or horizontal web pass
Optimum energy efficiency
OLBRICH calenders stand for first-class product results in the floor covering industry worldwide. The accurate precision of all components ensures you exclusive production advantages when calendering films for high-quality floor coverings.


Our calendering lines (MRC - melt roller calender) offer you many sophisticated functions, for example compensation of roll deflection by roll bending and axe crossing (skewing). Optimum strand feeding ensures a perfect connection to the upstream extruder.


With our two-roll and three-roll calenders, you can use maximum widths of up to four meters; our four-roll calenders provide you with a width of two meters. Controlled film take-off for optimum web cooling and guidance is a matter of course with our lines. You can also benefit from this advantage with retrofitting of existing machines.

EXEMPLARY CALENDER LINES:
Coating and film calenders (MRC - melt roller calender)
Inline calender systems
Offline calendering systems
Laminating calender
Calibration calender
OLBRICH systems offer you the greatest possible production reliability: To avoid production losses, our winders work with a high-precision guidance of the web tension for best winding quality and a straight roll edge. Further advantages are adjustment options for the winding characteristics and tension-optimized winding with low tensions.


You determine the degree of automation yourself. We offer the most diverse range of different systems: from manually operated single winders to fully automatic finished roll winders and automatic turret winders with loading/unloading systems. In addition, many automated functions are possible: from tube feeding and bale removal to cross cutting and splicing – also for retrofitting.


EXEMPLARY WINDING TECHNOLOGIES:
Unwinder/rewinder
Single/double winder
Turret winder (shafted or shaftless)
Center winder
Circumferential winder
Semi-automatic winders
Fully automatic jumbo roll winders
Fully automatic finished roll winders (CRW - customer roll winders)
You can rely on maximum efficiency when it comes to finishing your floor coverings: Our machine experts adapt your system perfectly to your product needs and the production process.


For example, you can assemble your floor coverings in the shortest possible time with fully automatic packaging systems for small rolls wrapping in paper or film. Fully automatic rolling machines, with automatic feeding of the winding core and specific winding algorithms, ensure precise tension control and straight-edged rolls. The working width is automatically adjustable without any loss of time - while production is running. In addition, we can implement optimization software for different roll lengths. The level of automation will be determined by yourself.


Our specialists lay out your cutting and stacking systems exactly according to your individual format specifications and optimise all cycle times for the planned production output. In this way, you receive precisely fitting cutting and handling systems for slabs that meet your requirements one hundred percent and in every detail.

EXEMPLARY PACKAGING TECHNOLOGIES:
Fully automatic packaging machines (with craft paper or film)
End wrapping
Labelling
Roll logistics
Sheet/slab handling and cutting machine
Robot technology for the stacking of slabs
Drive & Control Technology
Maximize your production and data security: With drive and control technology from OLBRICH, you can rely on safe processes in the production of floor coverings. In this way, you receive all services from one experienced source: We supply you with the mechanical drive and suitable switchgear with OLBRICH state-of-the-art technologies for your plant. We use the latest PLC controls from Siemens (TIA Portal) or Rockwell/Allen Bradley or Schneider, among others.


Our specialists in the electrical sector implement innovative and safe solutions for you in the areas of drive and control technology, user interfaces and scada systems. On request also with extended recipe processing for fast product changes. Of course, it is also possible to connect to your factory production planning and control systems (such as SAP) - just ask our specialists.


The sophisticated architecture of our systems also enables you to retrofit functions and aggregates at a later date. In addition, we retrofit existing lines using the latest technologies.

EXEMPLARY SERVICES FOR DRIVE AND CONTROL TECHNOLOGIES:
Conception and realization of the drive technology
Switchgear planning and manufacturing
Software engineering for CPU
Visualization / scada systems
Support and assistance with IQ and OQ
Service over the entire life cycle
Retrofittings and Upgrades
Service through remote support