Achenbach OPTIFOIL®
Aluminium Foil Rewinders
Achenbach rewinder service for optimum and effective rewinding and trimming aluminum coils onto other spools. The aim is to either produce the material ready for sale or to prepare the coils for the downstream rolling process and thus to optimize it. Depending on the strip thickness and the production target, two design types are differentiated: the foil rewinder and the strip rewinder.

Designed for rewinding diameters up to 2,100 mm at slitting speeds up to 600 m/min (foil rewinder) and 400 m/min (strip rewinder) as well as for coil weights up to 30,000 kg they are always tailored to the specific operation purpose.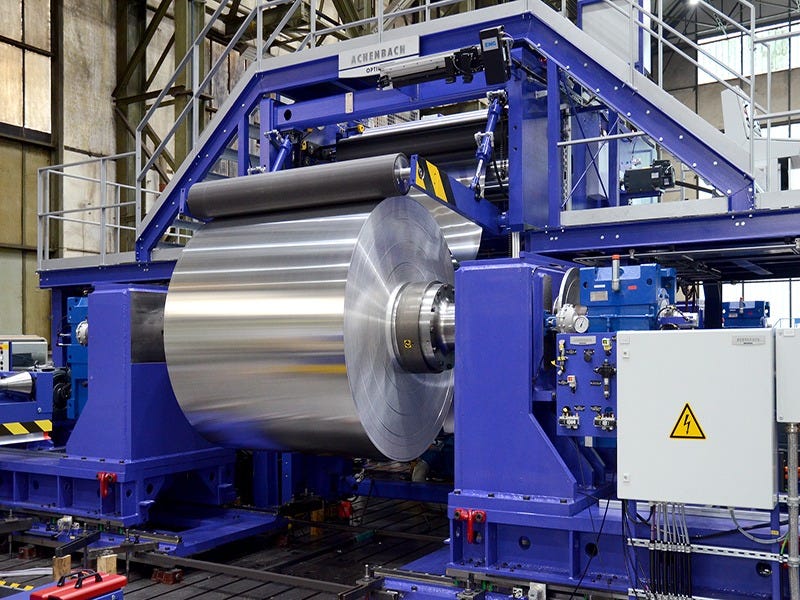 When the coil has been fed to the rewinder via the automatic feeding device, the strip is guided over various rollers up to the recoiler, where the material is wound with the help of a belt wrapper thus ensuring the required strip run stabilisation. Depending on the respective design, an automatic threading device or feeding tables in combination with transfer tables are used to guarantee fast threading of the coils.

An automatic cross cutting unit serves for cutting and disposing the inadequate strip nose to perfectly prepare the rewinding process. An ironing roller on the recoiler guarantees a high winding quality. The rewound strip is now ideally prepared for the subsequent rolling and further processing.
Speed:
Foil Rewinder: max. 600 m/min
Strip Rewinder: max. 400 m/min
Rewinding diameter: up to 2,100 mm
Coil weight: max. 30,000 kg
Automatic threading
Strip edge control
Trimming with automatic width and depth adjustment
Scrap handling
Automatic spool feeding and supply
Automatic feeding and removal handling
Ironing roller and belt wrapper at the recoiler
Working platform for optimum operating and maintenance of the machine
Automatic cross cutting unit
The cloud-based platform Achenbach OPTILINK® opens the way to the overall system networking of the various value creation stages and therefore to the optimization of the entire production process.
As a system provider, Achenbach follows an integrative approach by offering installation-wide solutions that incorporate multiple individual components. This single source concept lets us design a production process that is optimally tailored to your needs, from rolling to slitting to further processing.
OPTIFOIL Rewinder - Reference Images