Achenbach OPTIFOIL®
JumboSlit® Slitter
Achenbach slitting machines type JumboSlit serve for slitting thin aluminium as well as copper and brass foils or compound materials to small strips of minimum 10 mm width; they are tailored to the specific operation purpose.

For each new foil slitting machine or those to be modernized, a holistic approach to perfectly sychronize mechanics, hydraulics, automation and drive technology in their complex interaction is applied.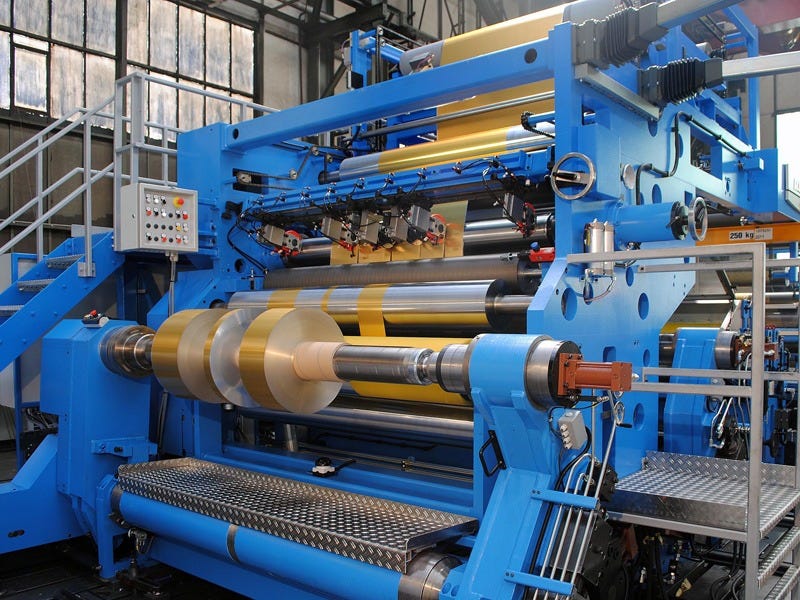 Highlights
JumboSlit® Separator
OPTIFOIL JumboSlit works with two oppositely arranged winding units and comes in three different designs:
Swivel winder
Single winding station
High-speed turret winder

Every JumboSlit features very short material transport paths and a highly precise slitting device, equipped with shear-cut, rotary shear-cut or razor-blade technology. Material feeding and finished roll handling are highly customizable.

A variety of useful automation and process engineering options allows the system to be easily adapted to individual customer requirements. Examples include:
Material threading device
Media applicator
Blade mounting aids, adjustment aids and loading aids
Various types of shell positioning devices such as core box or laser positioning
Speeds: up to 800 m/min
Foil thicknesses: of 25 µm to 400 µm
Rewinding diameters: up to 1,350 mm
Finish coil weights: up to 5,000 kg
Frictional operation
Integrated oil applicator with individually adjustable oil application rollers
Rewinding concept with stable, pivoted winding arms in combination with hydro pneumatic contact roller system
Integration of customer-specific measuring systems: surface inspection, inspection of paint defects, etc.
Integrated stable slitting section with top knife shaft or single knife holder
Guide frame
Unwinder with lifting function
The slitter type JumboSlit slits large rolls for end products such as:
Coffee & tea capsules
Converted foil
Plastic foil
Aseptic foil
The cloud-based platform Achenbach OPTILINK® opens the way to the overall system networking of the various value creation stages and therefore to the optimization of the entire production process.
As a system provider, Achenbach follows an integrative approach by offering installation-wide solutions that incorporate multiple individual components. This single source concept lets us design a production process that is optimally tailored to your needs, from rolling to slitting to further processing.
OPTIFOIL JumboSlit® - Reference Images