Achenbach OPTIFOIL®
Aluminium Foil Doubler
Achenbach doublers process two foils as preparation for the last rolling pass in the production of thinnest aluminium foils; they are always tailored to the specific purpose.

For each new doubler or those to be modernized, a holistic approach to perfectly synchronize mechanics, hydraulics, automation and drive technology in their complex interaction is applied.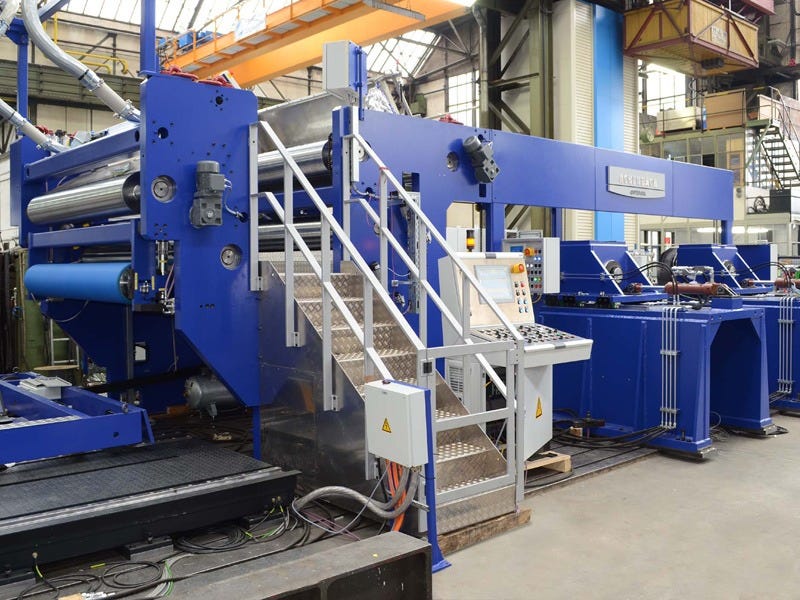 Achenbach OPTIFOIL doublers consist mainly of two coil deposits for material access, a cart, two unwinding stands, a roller bridge with a material feed device, a spray unit with suction for separating oil application, a shear or razor trimming device, a winder and a reel cart for transporting the empty reel from the unwinding stations to the winder. Each doubler features very short material transport paths.

A variety of useful automation and process engineering options allows the system to be easily adapted to individual customer requirements. Examples of this include the simultaneous transport of two coils for unwinding or different coil and reel handling systems; these options can be added anytime.
Speeds: up to 1,500 m/min
Foil thicknesses: 2 x 10 µm - 2 x 100 (150) µm
Rewinding diameters: up to 2,300 mm
Coil weights: up to 15,000 kg
Functional light-weight housing with integrated fully automatic material handling
Hydro-pneumatic pressure system with innovative double diaphragm cylinder
Rewinding operation with integrated trimming
Double coil car for material threading
Dynamically adaptive and highly precise spraying device
Extended threading device
Efficient oil mist exhaust system with optional oil recovery
The cloud-based platform Achenbach OPTILINK® opens the way to the overall system networking of the various value creation stages and therefore to the optimization of the entire production process.
As a system provider, Achenbach follows an integrative approach by offering installation-wide solutions that incorporate multiple individual components. This single source concept lets us design a production process that is optimally tailored to your needs, from rolling to slitting to further processing.
OPTIFOIL Doubler - Reference Images