Colines Extrusion
Extrusion Lines for Hygienic Film
Hygiene films include breathable and melt-embossed film (including the possible in-line lamination with non-Woven film).
Breathable film is produced with PP and PE resins according to final use. It is used to manufacture consumer products such as baby diapers, incontinence products, panty liners and sanitary napkins. Allowing air and other gases but not water to pass through, it finds applications also in the building field for roofing underlay and for technical as well as sports wear. Important features for a good breathable film are high breathability, softness and good weldability.
Melt-embossed film is made mainly of polyethylene resins and can be in-line laminated with non-Woven film. Both options are differently used in the hygiene industry for baby diapers, incontinence products, panty liners and sanitary napkins.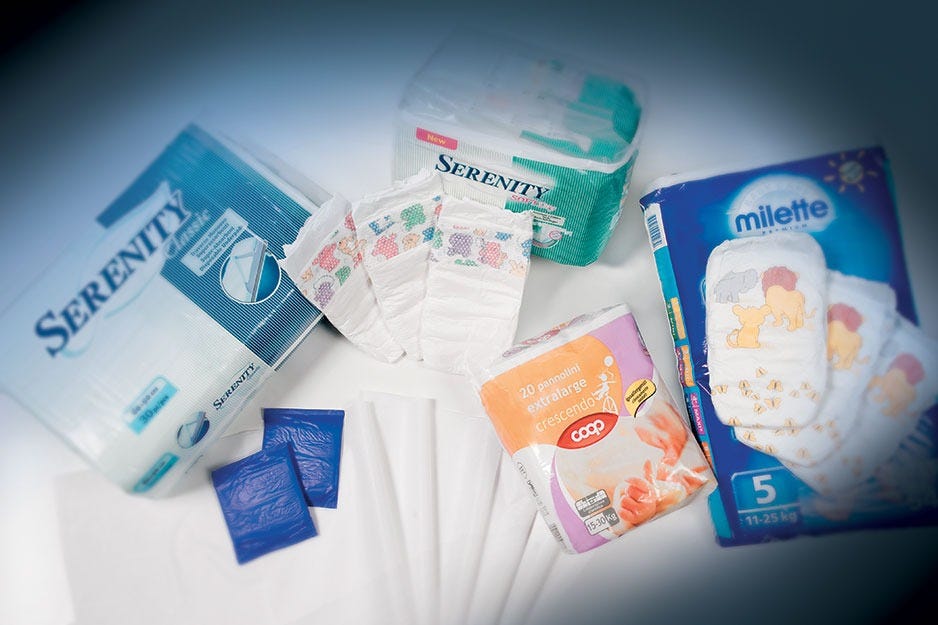 Cast & Blown Solutions for Hygienic Films
"Colines is the only company offering a complete package in Hygienic film lines"
Complete Extrusion Lines for Hygienic Film
Melt-embossed film plays a vital role as part of: Baby Diapers Incontinence products Sanitary napkins Panty liners Market features: wide variety of applications good profitability growing trend Further features of the Diapercast® lines: high-efficiency film cooling real production speed up to 400 m/min accurate process technology know-how compact layout, optimized space required (about 200 sqm) excellent winding, up to 20 in-line slittings on a 2000 mm line know-how supplied by Colines® to start production from the first day.

Production Features : Melt-embossed film
Format : Mother roll with in-line slitting
Core : 3" - 6"
Indicative width (mm) : up to 3000 mm
Colines satisfies the increasing demand of breathable film coming from the medical and textile markets with extrusion lines for baby diapers, incontinence products, sanitary napkins, panty liners, technical wear, sportswear. Breathable film finds its application also in the building industry as film for preventing condensation in house wooden roofing. The innovative stretching process, thanks to the MDO unit (single or double MDO unit up to 600%) creates micro porosity which enables air but not liquids to pass through the film. Thickness control before and after the stretching with automatic adjustment according to the set target is guaranteed by the two beta scan system sensors (same trace) which are standard features of the Aircast® lines. Further innovative features of this line are: Post-stretching embossing high performances Double throughput compared with blown lines Direct trims recovery with repelletizing Innovative system Fast AdJUST® (Elav) for the micrometric adjustment of the stretching parameters of the line Winder with multiple in-line slitting.

Production Features : Breathable film, Breathable embossed film, Embossed film
Format : Mother roll with in-line slitting
Core : 3" - 6"
Indicative width (mm) : up to 2500 mm
Blown extrusion line for producing multilayer films for hygienic applications, available in the 3- and 5-layer version. The line is equipped with two winders prearranged for multiple slitting and minimum web widths down to 80 mm, each one fitted with a corona treatment station.

Other peculiar features of the line are:
Pre-arrangement for in-line embossing
Fully automatic hi-performance winders
Thickness gauge with capacitive sensor and profile adjustment through automatic ring of the latest generation
Haul-off unit with refrigerated additional calenders

Production Features : PE film
Format : Mother roll with in-line slitting
Core : 3" - 6"
Indicative width (mm) : up to 2600 mm
Content from Vimeo can't be displayed due to your current cookie settings. To show this content, please click "Consent & Show" to confirm that necessary data will be transferred to Vimeo to enable this service. Further information can be found in our Privacy Policy. Changed your mind? You can revoke your consent at any time via your cookie settings.
Consent & Show